Aluminium Extrusion Profile and Accessories - Product Lines
Alprofil offer a full range of
aluminium extrusion profile
and associated
fittings and accessories
. As well as the standard extrusions such as 40 x 40 and 80 x 80 beams, newly released aluminium profiles (below) are now available, extending our range and widening the possibilities.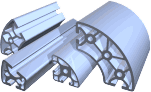 Interested in these and need more information ? Email
parts@alprofil.com
or call us on 01444 231340.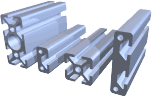 Register here for our new brochure
.
Some of our products.
This is by no means an exhaustive list - Please call if you can't find what you are looking for as Alprofil can probably source it for you.
Aluminium Extrusion Profile
Code
Description
0.001
T-Slot Cover Profile, Al, Clear Anodised
0.002
Border profile, Al, Clear Anodised
0.003
T-Slot Cover and Border Profile, PP, Clear
0.004
T-Slot Cover and Border Profile, PP, Black
0.005
Border Profile, PVC, White
0.006
Rebate Profile
0.007
T- Slot Cover Profile, Al, 30
0.008
Profile 30 x 30
0.009
Profile 30 x 30 2N90
0.010
Profile 40 x 16 Heavy
0.011
Profile 60 x 30
0.012
Profile 60 x 60
0.020
Profile 20 x 10
0.021
Profile 20 x 20
0.022
Profile 40 x 10
0.023
Profile 40 x 20
0.027
Clamp Profile 40 x 40
0.028
Clamp Profile 40 x 40-180
0.030
Profile 40 x 40 Light
popular
0.040
Profile 32 x 18
0.050
Profile 40 x 40 1N Light
0.060
Profile 40 x 40 2N90 Light
0.130
Profile 40 x 40 Heavy
popular
0.140
Profile 40 x 40-45° Heavy
0.141
Profile 40 x 40-45° Light
0.150
Profile R40/80-45°
new
0.151
Profile R40/80-90°
new
0.160
Profile 80 x 16 Heavy
0.180
Profile 80 x 40 Light
0.200
Profile 80 x 40 1N Light
0.205
Profile 80 x 40 2N Light
0.220
Profile 80 x 40 Heavy
0.230
Profile 80 x 80 Light
popular
0.240
Profile 80 x 80 Heavy
popular
0.250
Profile 80 x 80-45° Light
0.260
Profile 120 x 40 D25 Heavy
0.270
Profile 120 x 80 Heavy
0.290
Profile 160 x 40 D25 Heavy
0.295
Profile 160 x 40 Heavy
0.300
Profile 160 x 80 Heavy
Interested in these and need more information ? Email
parts@alprofil.com
or call us on 01444 231340
Fittings and Accessories
| | | | |
| --- | --- | --- | --- |
| Code | | Description | |
| 2.0012 | | Sliding Nut 5, St M4 | |
| 2.0014 | | Sliding Nut 5, St M5 | |
| 2.003 | | Sliding Nut, St M4 | |
| 2.005 | | Sliding Nut, St M4-V | |
| 2.010 | | Sliding Nut, St M5 | |
| 2.015 | | Sliding Nut, St M5-V | |
| 2.020 | | Sliding Nut, St M6 | |
| 2.025 | | Sliding Nut, St M6-V | |
| 2.028 | | Sliding Nut, St M6, Heavy | |
| 2.030 | | Sliding Nut, St M8 | |
| 2.035 | | Sliding Nut, St M8-V | |
| 2.038 | | Sliding Nut, St M8, Heavy | |
| 2.040 | | Sliding Nut, St M5-30 | |
| 2.045 | | T-Sliding Nut, St M4 | |
| 2.046 | | T-Sliding Nut, St M5 | |
| 2.047 | | T-Sliding Nut, St M6 | |
| 2.048 | | T-Sliding Nut, St M8 | |
| 2.050 | | Sliding Nut, St M8-36 | |
| 2.055 | | Sliding Nut, St M8-36-V | |
| 2.060 | | Sliding Nut, St M8-76 | |
| 2.065 | | Sliding Nut, St M8-76-V | |
| 2.070 | | Sliding Bar, Blank, St | |
| 2.075 | | Sliding Bar, Blank, St-V | |
| 2.078 | | Sliding Bar, St Heavy | |
| 2.079 | | Sliding Twist Nut, Zn M3 | |
| 2.080 | | Sliding Twist Nut, Zn M4 | |
| 2.090 | | Sliding Twist Nut, Zn M5 | |
| 2.100 | | Universal Connector Set | |
| 2.110 | | Universal Connector | |
| 2.150 | | End Connector Set | |
| 2.160 | | Right Angle Connector | |
| 2.172 | | Bolt Connector 30 | |
| 2.173 | | Bolt Connector 60 | |
| 2.180 | | Bolt Connector 40 | |
| 2.181 | | Bolt Connector 80 | |
| 2.185 | | Bolt End Connector 40 | |
| 2.186 | | Bolt End Connector 80 | |
| 2.200 | | Angle Bracket 40, GD-Zn | |
| 2.210 | | Angle Bracket Set 40, GD-Zn | |
| 2.220 | | Angle 40, St, Black | |
| 2.221 | | Fixing Set | |
| 2.222 | | Angle 30, St, Black | |
| 2.223 | | Fixing Set | |
| 2.230 | | Bracket Plate 40, St, Black | |
| 2.231 | | Fixing Set | |
| 2.232 | | Bracket Plate 30, St, Black | |
| 2.233 | | Fixing Set | |
| 2.250 | | Angle Connector, 40 x 40, 1 x 45° | |
| 2.251 | | Fixing Set | |
| 2.260 | | Angle Connector, 40 x 80, 1 x 45° | |
| 2.261 | | Fixing Set | |
| 2.270 | | Angle Connector, 40 x 40, 2 x 45° | |
| 2.271 | | Fixing Set | |
| 2.280 | | Angle Connector, 40 x 80, 2 x 45° | |
| 2.281 | | Fixing Set | |
| 2.300 | | Base Plate, Al, Clear Anodised | |
| 2.320 | | Levelling Support Plate, St, Zinc Plated | popular |
| 2.330 | | Corner Plate, Al, Clear Anodised | |
| 2.331 | | Fixing Set | |
| 2.340 | | Connecting Plate, Al, Clear Anodised | |
| 2.341 | | Fixing Set | |
| 2.350 | | Right Angle Foot Bracket, Non Adjustable | |
| 2.351 | | Fixing Set | |
| 2.355 | | Right Angle Foot Bracket, Adjustable | |
| 2.356 | | Fixing Set | |
| 3.001 | | Cover Cap 20 x 10, PA-GF, Black | |
| 3.002 | | Cover Cap 20 x 20, PA-GF, Black | |
| 3.003 | | Cover Cap 40 x 10, PA-GF, Black | |
| 3.004 | | Cover Cap 40 x 20, PA-GF, Black | |
| 3.005 | | Cover Cap 30 x 30, PA-GF, Black | |
| 3.006 | | Cover Cap 32 x 18, PA-GF, Black | |
| 3.007 | | Cover Cap 60 x 30, PA-GF, Black | |
| 3.010 | | Cover Cap 40 x 16, PA-GF, Black | |
| 3.020 | | Cover Cap 40 x 40, PA-GF, Black | |
| 3.030 | | Cover Cap 40 x 40 - 45°, PA-GF, Black | |
| 3.040 | | Cover Cap 80 x 16, PA-GF, Black | |
| 3.050 | | Cover Cap 80 x 40, PA-GF, Black | |
| 3.060 | | Cover Cap 80 x 80, PA-GF, Black | |
| 3.090 | | Cover Cap 160 x 80, PA-GF, Black | |
| 3.120 | | Cover Cap 40 x 40, Gd Zn, Clear (Includes 3.190) | |
| 3.130 | | Cover Cap 40 x 40, Gd Zn, Black (Includes 3.190) | |
| 4.001 | | Levelling Feet Rubber Insert, 40 | |
| 4.007 | | Levelling Feet Rubber Insert, 40 St | |
| 4.002 | | Levelling Feet Rubber Insert, 80 | |
| 4.003 | | Levelling Feet Rubber Insert, 30 | |
| 4.004 | | Levelling Feet Rubber Insert, 80 St | |
| 4.005 | | Levelling Feet, 30 M8 x 68 | |
| 4.006 | | Levelling Feet, 30 M8 x 108 | |
| 4.010 | | Levelling Feet, 40 M8 x 71 | |
| 4.015 | | Levelling Feet St, 40 M8 x 68 | |
| 4.020 | | Levelling Feet, 40 M10 x 72 | |
| 4.025 | | Levelling Feet St, 40 M10 x 75 | |
| 4.050 | | Levelling Feet 80, M12 x 100 | |
| 4.055 | | Levelling Feet St 80, M12 x 96 | |
| 4.060 | | Levelling Feet 80, M16 x 150 | |
| 4.065 | | Levelling Feet St 80, M16 x 155 | |
| 4.066 | | Fixed Levelling Feet, 80, GD-Zn, M16 x 66 | |
| 4.067 | | Fixed Levelling Feet, 80, GD-Zn, M16 x 100 | |
| 4.068 | | Fixed Levelling Feet, 80, GD-Zn, M16 x 150 | |
| 4.081 | | Adjustable Foot, PA 30 | |
| 4.083 | | Adjustable Foot, PA 40 | |
| 4.100 | | Transport and Support Plate, St, Black, 80 x 40, M10 | |
| 4.110 | | Transport and Support Plate, St, Black, 80 x 40, M12 | |
| 4.120 | | Transport and Support Plate, St, Black, 80 x 40, M16 | |
| 4.150 | | Transport and Support Plate, St, Black, 80 x 80, M10 | |
| 4.160 | | Transport and Support Plate, St, Black, 80 x 80, M12 | |
| 4.170 | | Transport and Support Plate, St, Black, 80 x 80, M16 | |
| 4.200 | | Handle 120, PA-GF, Black | |
| 4.201 | | Fixing Set | |
| 4.210 | | Handle 150, PA-GF, Black | |
| 4.211 | | Fixing Set | |
| 4.220 | | Handle, St, 180 | |
| 4.221 | | Handle, St, 120 | |
| 4.230 | | Handle, Al, 180 | |
| 4.231 | | Handle, Al, 120 | |
| 4.240 | | Hinge 40, Zn | |
| 4.245 | | Heavy Duty Hinge 40x40 | |
| 4.250 | | Hinge 1, PA-GF, Black | |
| 4.251 | | Fixing Set | |
| 4.260 | | Hinge 2, PA-GF, Black | |
| 4.261 | | Fixing Set | |
| 4.264 | | Hinge PA 77 x 48 | |
| 4.265 | | Hinge PA 77 x 48, Detachable - Left | |
| 4.266 | | Fixing Set for Hinges PA 77 x 48 | |
| 4.267 | | Hinge PA 77 x 48, Detachable - Right | |
| 4.270 | | Hinge Left, PA-GF, Black | |
| 4.271 | | Fixing Set | |
| 4.272 | | Hinge - Right, PA-GF, Black | |
| 4.273 | | Fixing Set | |
| 4.276 | | Hinge 5 | |
| 4.280 | | Hinge 40 x 40 | |
| 4.282 | | Hinge 50 x 50 | |
| 4.284 | | Hinge 60 x 60 | |
| 4.286 | | Hinge 76 x 50 | |
| 4.290 | | Suspended Glider, PA-GF, Black | |
| 4.291 | | Clamping Element | |
| 4.300 | | Fixing Block, PA-GF, Black | |
| 4.301 | | Fixing Set | |
| 4.302 | | Clamp Fixing Block, PA-GF, Black | |
| 4.303 | | Fixing Block 30, PA-GF, Black | |
| 4.304 | | Fixing Set | |
| 4.305 | | Clamp Fixing Block 30, PA-GF, Black | |
| 4.306 | | Tool for Clamp Fixing Blocks | |
| 4.310 | | Magnetic Lock, PA-GF, Black | |
| 4.311 | | Fixing Set | |
| 4.320 | | Profile Roller | |
| 4.330 | | Tube or Cable Holder, PA-GF, Black | |
| 4.335 | | Twist-in Cable Holder, PA-GF, Black | |
| 4.340 | | Support for Limit Switch 12 | |
| 4.341 | | Fixing Set | |
| 4.344 | | 8mm Sensor Holder | |
| 4.350 | | Support for Light Barrier | |
| 4.351 | | Fixing Set | |
| 4.360 | | Hanger - Left | |
| 4.361 | | Fixing Set | |
| 4.362 | | Hanger - Right | |
| 4.363 | | Fixing Set | |
| 4.364 | | Door Catch | |
| 4.365 | | Fixing Set | |
| 4.366 | | Pivot Hanger | |
| 4.367 | | Fixing Set | |
| 4.370 | | Wire Mesh Securing Nut | |
| 4.400 | | Castor 75, Swivel | |
| 4.401 | | Castor 75, Swivel, Brake | |
| 4.402 | | Castor 75, Fixed | |
| 4.410 | | Castor 75, Swivel, Anti-static | |
| 4.411 | | Castor 75, Swivel, Brake, Anti-static | |
| 4.412 | | Castor 75, Fixed Anti-static | |
| 4.420 | | Castor 125, Swivel | |
| 4.421 | | Castor 125, Swivel, Brake | |
| 4.422 | | Castor 125, Fixed | |
| 4.430 | | Castor 125, Swivel, Anti-static | |
| 4.431 | | Castor 125, Swivel, Brake, Anti-static | |
| 4.432 | | Castor 125, Fixed, Anti-static | |
| 4.500 | | Pneumatic Connection Plate, St, Black, 80 x 40, R1/2" | |
| 4.501 | | Pneumatic Connection Plate, St, Black, 80 x 80,R1" | |
| 4.510 | | Pneumatic Blanking Plate, St, Black, 80 x 40 | |
| 4.511 | | Pneumatic Blanking Plate, St, Black, 80 x 80 | |
| 4.520 | | Pneumatic Connecting Plate, St, Black, 80 x 80 | |
| 4.530 | | Pneumatic Connecting Element, St, Black | |
| 4.540 | | Pneumatic Connecting Gasket 80 x 40 | |
| 4.541 | | Pneumatic Connecting Gasket 80 x 80 | |
| 4.542 | | Pneumatic Blanking Gasket 80 x 40 | |
| 4.543 | | Pneumatic Blanking Gasket 80 x 80 | |
| 4.600 | | Safety Switch | |
| 4.601 | | Fixing Set | |
| 4.602 | | Interlocking Safety Switch | |
| 4.603 | | Fixing Set | |
| 4.604 | | Slam Latch | |
| 4.605 | | Slam Latch (same key) | |
| 4.606 | | Slam Latch (mixed key) | |
| 4.610 | | Bar Locking Set | |
| 4.622 | | Sliding Door Runner Profile, 2 Tracks for 8mm Panels | |
| 4.627 | | Sliding Door Runner Profile, 3 Tracks for 6mm Panels | |
| 4.630 | | Glide Strip,PP, Bl | |
| 4.640 | | Roller Block for Sliding Door | |
| 5.004 | | Hex Key, T-Handle, 4mm | |
| 5.005 | | Hex Key, T-Handle, 5mm | |
| 5.006 | | Hex Key, T-Handle, 6mm | |
| 5.014 | | Hex Key with Handle, Ball Head, 4mm | |
| 5.015 | | Hex Key with Handle, Ball Head, 5mm | |
| 5.016 | | Hex Key with Handle, Ball Head, 6mm | |
| 5.024 | | Hex Key, Standard L, 4mm | |
| 5.025 | | Hex Key, Standard L, 5mm | |
| 5.026 | | Hex Key, Standard L, 6mm | |
| 5.100 | | Cap Head Screw M5 x 10 | |
| 5.101 | | Cap Head Screw M5 x 16 | |
| 5.102 | | Cap Head Screw M5 x 20 | |
| 5.103 | | Cap Head Screw M5 x 30 | |
| 5.110 | | Cap Head Screw M6 x 16 | |
| 5.111 | | Cap Head Screw M6 x 20 | |
| 5.112 | | Cap Head Screw M6 x 25 | |
| 5.113 | | Cap Head Screw M6 x 30 | |
| 5.120 | | Cap Head Screw M8 x 16 | |
| 5.121 | | Cap Head Screw M8 x 20 | |
| 5.122 | | Cap Head Screw M8 x 30 | |
| 5.123 | | Cap Head Screw M8 x 45 | |
| 5.130 | | Button Head Screw M5 x 10 | |
| 5.131 | | Button Head Screw M5 x 16 | |
| 5.132 | | Button Head Screw M5 x 20 | |
| 5.133 | | Button Head Screw M5 x 25 | |
| 5.140 | | Button Head Screw M6 x 10 | |
| 5.141 | | Button Head Screw M6 x 20 | |
| 5.142 | | Button Head Screw M6 x 25 | |
| 5.143 | | Button Head Screw M6 x 30 | |
| 5.144 | | Button Head Screw M6 x 35 | |
| 5.150 | | Button Head Screw M8 x 16 | |
| 5.151 | | Button Head Screw M8 x 20 | |
| 5.152 | | Button Head Screw M8 x 25 | |
| 5.153 | | Button Head Screw M8 x 30 | |
| 5.154 | | Button Head Screw M8 x 40 | |
| 5.155 | | Button Head Screw M8 x 45 | |
| 5.200 | | Acrylic Glass 5 mm, Clear | |
| 5.201 | | Acrylic Glass 5 mm, Smoked | |
| 5.210 | | Acrylic Glass 8 mm, Clear | |
| 5.211 | | Acrylic Glass 8 mm, Smoked | |
| 5.220 | | Polycarbonate 5 mm, Clear | |
| 5.221 | | Polycarbonate 5mm, Smoked | |
| 5.225 | | Polycarbonate 6mm, Clear | |
| 5.230 | | Polycarbonate 8 mm, Clear | |
| 5.231 | | Polycarbonate 8 mm, Smoked | |
| 5.240 | | Hard PVC 5 mm, White | |
| 5.241 | | Hard PVC 5 mm, RAL Colours | |
| 5.250 | | Hard PVC 8 mm, White | |
| 5.251 | | Hard PVC 8 mm, RAL Colours | |
| 5.260 | | Composite Material PE, 4 mm, Al Coated White | |
| 5.270 | | Sheet Metal Al 2 mm, White | |
| 5.271 | | Sheet Metal Al 2 mm, RAL Colours | |
| 5.280 | | Wire Mesh Al 30 x 30, 3 mm | |
| 5.281 | | Wire Mesh Al 40 x 40, 3 mm | |
| 6.010 | | Roller Element 13 with Belt Guide | |
| 6.020 | | Roller Element 16 | |
| 6.030 | | Ball Element | |
| 6.510 | | Work Table, Plain | |
| 6.520 | | Work Table, Extended | |
| 6.530 | | Transport Trolley | |
| 6.610 | | Machine Base Stand | |
| 6.710 | | Machine Safety Guard | |
| 6.720 | | Machine Enclosure | |
| 6.810 | | Sliding Doors | |
Interested in these and need more information ? Email
parts@alprofil.com
or call us on 01444 231340